Legion of Honor Observance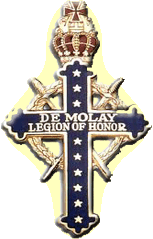 The Massachusetts Court, Legion of Honor will observe on Monday evening, March 18th at Tavolino's Restaurant, 33 East Main Street, Westborough 01581 (Bay State Commons).
The cost of the evening is $25 per person. The entree maybe chosen at the restaurant (no need to get selections up-front). The entree choices are: chicken parmesan, shrimp scampi or pork marsala. A cash bar will be available and we will be in a private dining room. Spouses are welcome. We do need a count. Please RSVP to Paul Perkins or (978) 337-2944 by March 14th.
Payment due for dinner on arrival at the restaurant to Ken Northrup, but those who reserve and do not attend will be responsible for their financial obligation.