It took an "All Star" Team...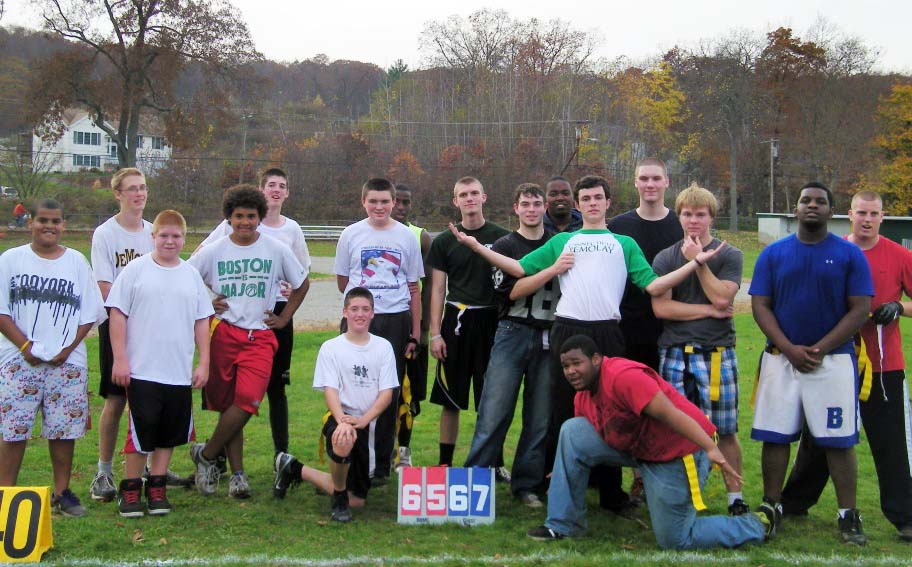 Mother nature cooperated once again, providing a nice fall day for an afternoon of sports.
Saturday October 27th, a team representing the best athletes Connecticut DeMolay could muster, traveled to the outskirts of Worcester, MA for a Flag Football game against little Benjamin Franklin Chapter.
The Connecticut team of all stars finally prevailed in a 67-65 win. (You'd have thought the score would have been wider considering that Connecticut had their whole state to draw on and small Benjamin Franklin Chapter only the rural boys of Grafton, Massachusetts.) Yes, it looks more like a basketball score than a football score... Defense on either team was not considered a strong emphasis, but who watches football for the defense? Don Cargill, Chapter Advisor of Benjamin Franklin Chapter said, "Amazing what a bunch of 14-15 years olds can do against 17-20 year olds. The game came right down to the last minutes too."
Score aside (banter too), it was a good day for DeMolay. Members of DeMolay, regardless of which side of the state border they are on, got to experience some of the fun DeMolay has to offer.
Perhaps the Massachusetts guys will bring some of their competition when Connecticut has our Soccer Tournament?